Two weeks ago I posted an article on my website, Full Steam Ahead for US Economy in 2015? – Just Hold Your Horses There.
I am not convinced that 2015 is going to be the bumper year that the majority of the
financial press has been spruiking. The article details my reasons for rebutting all the hype. Don't get me wrong. I think 2015 will be a better economic year than we have been experiencing. I believe we should be happy with a steady and sustainable economic recovery rather than pumping up another bubble economy.
I was looking to the breaking of the Fall15 wholesale season at fashion trade shows in Las Vegas last week as a benchmark of buyer activity in fashion retail. Would all the talk of a charging economy stimulate a buying bonanza? Or would it be steady as she goes? In my opinion, it was the latter.
My surveying of retailers in the Long Beach, California area tells me that the optimism of the economic pundits is not being substantially felt at the checkouts. Until the buying public give retailers the nod that they have the money to spend, we can expect retail sales to lag behind other economic indicators.
Purchasing power is directly proportional to surplus disposable income. Most people need a job, and usually a well paying job, to have disposable income. Despite what the official job figures say, I believe there are still many unemployed and underemployed who are hidden from the government statisticians. Basically the economy needs to provide more adequately paying jobs before we see any significant spike in retail sales.
We could short circuit sustainable retail growth by just putting everything on credit again. But I hope people's memories can extend back 7 years to the financial disaster of 2008. Then again, the folks who brought you 'Too Big To Fail' got the Senate back last November and increased their majority in the House, so anything is possible.
The California Apparel News review of last week's shows is reposted below and is, as usual, upbeat. CAN is fulfilling it's role as industry cheerleader.
My experience was that activity looked no different from this time last year. While there were lots of bodies at all the shows, I was not sure who they were. The shows are massive. It is difficult to divine who is who. Who are the people walking the aisles? Buyers? Exhibitors? Agents? Media? Industry types? Of course, all of the above. But I didn't see furious order writing in the booths.
I was accompanied on the treks through the Valleys of the Garmentos by fellow countryman, good friend and professional photographer of note, Adrian Wlodarczyk of Shapeshift Photography.
As well as reporting on the shows and meeting with contacts and business prospects, I was buying accessories for the eclectic Long Beach gift store, Z Fabrique.
We walked the Modern Assembly shows at the Venetian/Sands Expo that started on Monday – Liberty, Agenda, Capsule, MRket, Stitch, Accessories The Show. As well as Offprice and CurveNV.
The MAGIC shows at the Mandalay Bay and LA Convention Center started on Tuesday – Project, ENKVegas, WWDMAGIC, Pooltradeshow.
We revisited them all on Wednesday to follow up with some contacts and see if the Day 1 excitement had carried over.
The Modern Assembly shows were busy on Monday. There was a distinct lack of energy at the Mandalay Bay on the Tuesday morning. It picked up a bit as the day went on.
The feedback was mixed when I revisited my exhibitor contacts at both locations on Wednesday. Some agents and designers were very happy with business, some thought it was OK, some thought that things were quieter than expected.
Here are some of the labels that caught my eye:
King Baby is always impressive. They have store locations in Santa Monica, Nashville, Caesars Palace Las Vegas, and in Beijing, China. They make their stuff in Santa Monica and actually to export to China.
Brooklyn Hat Co. was doing strong business with their floppy hats.
Bread & Butter underwear from Sweden is making a push into the US market at the very affordable wholesale price of US$7.
JanSport have been making good quality and affordable backpacks and camping gear for nearly 50 years. They have stayed up with the times, and fit comfortably in with the contemporary labels at Liberty. Their sales people are some of the friendliest you come across.
Wood Underwear is one of my personal favorites. Terresa Zimmerman, the founder and designer of Wood was one of my clients when she first launched the label. Terresa has successfully added camouflage prints to the collection over recent seasons. She has added stripes for Fall15.
I have had my eye on the hand carved recycled water pipe bracelets from The Base Project for a few seasons now. The Base Project provides a bridge between artisans in the developing world (the bracelets are carved by Namibian artisans) and the US fashion market and creates jobs and investment in community development projects.
Annie Hammer Jewelry was my find of last week.  The collection beautifully melds hip styling and the use of semi-precious stones in their powerful, raw states. The cuffs come in leather and horn with crystals and silver and studs and prints. There was a Labradorite point leather cuff for $70 wholesale that I would have snapped up on the spot if it had been the last day of the show. Annie also does earrings, necklaces and cuff links.
Do yourself a favor and take a good look at Annie's range if you get a chance.
So that's the Fall15 Vegas round of shows in the books. All in all, it was a positive week. The energy was good thoughout. Then again, that is always the case. When  you have that much creativity and that many creative people clashing with that much business and that many business people, there has to be a reaction.
The week is always stimulating. The start of a new season is always exciting and optimistic. Let's hope the optimism is justified and we have a good, solid year of sustainable growth in the fashion industry and the economy in general.
California Apparel News
TRADE SHOW REPORT
Good International Turnout and Strong Interest in Immediates at Las Vegas Trade Shows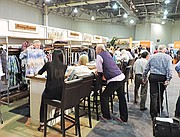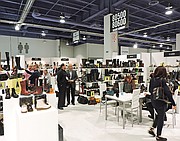 LAS VEGAS—International buyers and retailers looking to restock diminished inventories circulated around the more than 20 apparel, accessories and sourcing trade shows in Las Vegas, including the MAGIC Marketplace shows (MAGIC, Project, ENKVegas, WWDMAGIC, Pooltradeshow, Tents at MAGIC, Sourcing at MAGIC, ISAM, FN Platform, WSA Vegas and Playground); the Modern Assembly shows (Liberty, Agenda, Capsule, MRket, Stitch and Accessories The Show); the Offprice show; CurveNV; WWIN (Womenswear in Nevada); and Kidshow.
MAGIC kicked off most of its shows on Feb. 17 with some exhibitors reporting an especially strong turnout.
"This is one of the better first days in a long time," said Moshe Tsabag, whose Velvet Heart booth at WWDMAGIC at the Las Vegas Convention Center was consistently busy throughout opening day.
"They are coming and asking for Immediate goods, and we have it—we projected earlier," Tsabag said, adding that some retailers have been struggling to fill in inventories for goods that have been stuck at the West Coast ports during the recent slowdown during contract negotiations. "People are looking for goods, and we are able to fulfill these orders quickly," he said.
At the end of the first day, Stop Staring!'s James Atyeo was entering a stack of handwritten orders into the computer at the Stop Staring! booth at WWDMAGIC.
"So far, so good," he said. "I wasn't sure how this day would go, but from 10 a.m. on it hasn't really slowed down all day."
Kristen Keyes Sullivan, director of sales for Compton, Calif.–based Colosseum, was similarly upbeat.
"So far, it's a great first day," she said.
Sullivan was showing the company's 3-year-old activewear collection in WWDMAGIC's new dedicated section for activewear and yoga collections.
"It's nice having a real activewear section," she said.
The semiannual Sourcing at MAGIC show, held in the South Hall of the Las Vegas Convention Center, opened a day early on Feb. 16. Nearly 40 countries represented at the gargantuan show were showing their expertise in manufacturing everything from athletic wear to zippers. Chinese exhibitors made up more than half the show.
This season, there was a focus on Egypt and its 25 qualifying industrial zones, where apparel made there gets duty-free entry into the United States under a trade preference program.
Mandalay Bay shows upbeat
At Project at the Mandalay Bay Convention Center, Christopher Yoo, wholesale director of the Los Angeles–based Andrew Christian fashion underwear brand, said that his booth had 50 appointments.
"Every hour was double booked," he said.
Mario Pasillas, West Coast sales for 7 Diamonds, said he saw "an upswing in the way people are spending."
The 7 Diamonds booth was in the same place it's been for the last three years, Pasillas said.
"It's tried and true," he said. "People know where to find us. It's great."
At the upscale Tents at Project, retailers Jacqueline Forbes and Arlington Forbes, owners of Canvas Malibu at the Malibu Country Mart and Canvas Woman in Malibu, described business as "solid."
"There is an uptick in buying," Forbes said.
Marie Shaffer, who was working with Agave, said she saw Pitkin County Dry Goodsof Aspen, Colo.; Gary's of Newport Beach, Calif.; Butch Blum, based in Seattle; Rodes, based in Louisville, Ky.; and Baer's Den, with locations in Memphis and Birmingham Ala.
Opening day of ENKVegas, also at the Mandalay Bay Convention Center, was for window shopping, said Amanda Parenti, a freelance salesperson for women's contemporary brand Philanthropy.
"During the first day there's a lot of looky loos," she said. "The second day they always come back and order."
Pooltradeshow expanded its style boundaries during its February 2015 run. Best known for T-shirts and casual looks, Pool became a forum for suits when Dutch brand Opposuits made its U.S. debut at Pool. The line's suits retail for $99 and feature comic prints of dollar signs, leopard skin prints and ugly Christmas sweaters, said Jelle van der Zwet, a founder of the brand. "We saw some serious buyers looking for the latest trends," he said of Pool.
Busy at the Sands and Venetian
The trade shows held at the Sands Expo & Convention Center and adjacent Venetian ballrooms started early, giving buyers a head start on shopping.
MRket, Accessories The Show and Stitch, all organized by Business Journals Inc., opened on Feb. 16.
By the second day of the show, everyone up and down the wide aisles glowed about the amount of traffic that was seen that Monday.
"We had six people working in our booth, and we could have used more," said Bea Gorman, who runs the Salt & Pepper Sales showroom with Emmalena Bland at the Gerry Building in Los Angeles and was showing at Stitch. "We booked in one day what we booked the entire show one year ago."
At the Liberty show, Leary Forteau, sales for Matiere, said he met with a lot of international retailers.
Dale Rhodes, vice president of sales at Katin USA, said he saw all his major accounts, including Nordstrom, Bloomingdale's and Conveyor at Fred Segal. But many retailers were late on deadlines, Rhodes said. "Our deadlines for Fall and Holiday are past," he said. "This show is for us to capture new boutique accounts."
At Agenda, Brian Krauss, president of Carlsbad, Calif.–based footwear line MacBeth, introduced an apparel collection.
"We're getting a lot of recognition for the brand by being at this show," he said.
This season, Agenda quietly introduced a section called (+), or Plus, devoted to elevated streetwear.
At Capsule, Tina Ye, national agent for the True Collaborative Fashion showroom, with locations in Portland, Ore., and the Cooper Design Space in Los Angeles, said opening day was busy with buyers looking at the showroom's lines Nau, Bridge & Burn, Prairie Underground, Curator and Little River Sock Mill.
"People were open to look at the other lines we represent," Ye said, adding that she saw several buyers from Japan and Korea.
Lingerie and swimwear buyers shopping at CurveNV got the news that the show, organized by French trade show organizer Eurovet, will partner next season with MAGIC and move to the Las Vegas Convention Center.
Among the new exhibitors at the recent show was Joe's Intimates, the lingerie, swimwear and lounge line from Joe's Jeans and Onis Design Group.
"Day one has been good," said Gihan Gabor, vice president of sales for Onis. "They're surprised to see Joe's intimates. We keep hearing how much people love their Joe's Jeans."
Mona Goldberg, senior vice president of sales and merchandising with luxury eco underwear collection Blackspade, said she was meeting with buyers from "all over," including many international retailers.
"The energy has been great," she said.
The Offprice show, held on the first floor of the Sands, opened on Feb. 15.
"This is a very good show for us," said Patti Luner, director of sales for Studio City, Calif.–based Ingear, which shows its excess inventory at Offprice and its better lines and licensed collections at MAGIC.
"This is the time of year for Immediate goods," she said. "At this show, they see this body and that print, and they can get it right now."
Ed Bernard, president of Michigan-based Bermo Enterprises, described this season's Offprice show as "phenomenal."
"We had so much activity before the show that we knew it was going to be good," he said.
We saw all of our domestic companies but quite a few new and more international than ever."
Brisk at WWIN
The WWIN show at the Rio All-Suites Hotel & Casino had particularly brisk traffic this season. Even during the third day of the four-day event, which ran Feb. 16–19, the tables were packed with buyers perusing new looks, taking notes or placing orders.
Elaine Nieh, president of Flair LLC in Burlingame, Calif., has been attending the event for 10 years to sell her stylish reversible jackets and crinkled polyester tops that are flared at the bottom. They wholesale for $40 to $50.
"It has been a very good show for us," said Nieh, whose wide booth was separated into sections for Immediates, Spring and Fall. Buyers were placing orders for all three.
"I always feel comfortable at this show, and my clients know where to find me here," she said, explaining why she keeps coming back year after year.
Over at the Sienna Rose booth, Sasha Rivera was meeting with buyers interested in the line's vibrant print tops that had a certain bohemian look. Half the line made of georgette, polyester/spandex and polyester knit is manufactured in the Arts District in downtown Los Angeles, and the rest is made overseas. "I think our vibrant prints are attracting a lot of customers and also because of our price points," she said of the collection that wholesales for $20 to $45.