This is some interesting data from Apparel News.
Unfortunately, demand for non-durable goods is still lagging. Fashion retail will continue to struggle until we see an uptick in household disposable incomes.
FINANCE
Economy on Strong Footing to Grow, But Apparel Sales Challenged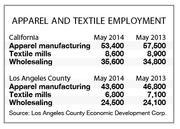 For once, economists are in agreement. The financial outlook for California and the rest of the nation is bright for the rest of the year.
After severe cold weather in the rest of the country froze economic activity this winter, consumers and businesses have been making up for lost time.
"We wrote off the first quarter," said Esmael Adibi, director for the A. Gary Anderson Center for Economic Research atChapman University in Orange, Calif. "But we think the second, third and fourth quarters should be relatively strong."
The International Monetary Fund recently revised its estimate for economic growth in the United States, saying the weak first quarter means the country's gross domestic product will rise 2 percent this year rather than the 2.8 percent it predicted earlier.
A growing economy means that hiring has been robust across the country and in California. The unemployment rate has been dropping steadily as employers add more workers. With more people in the workforce, there is more money to spend on clothing, cars and other consumer items, economists noted.
Adibi predicted that California's retail sales should grow by about 6 percent this year after rising 7 percent in 2013, 7.3 percent in 2012 and 8.8 percent in 2011. Right after the recession ended in the summer of 2009, there was a flurry of spending because of pent-up demand.
On the employment front, California has been creating jobs faster than the rest of the nation. A lot of those jobs have been in technology, but construction is catching up, too. Between January 2013 and April 2014, construction job growth made up 12 percent of all new payroll jobs in California.
"The state and Los Angeles County have been adding wage and farm jobs at a faster clip than the nation,' said Robert Kleinhenz, chief economist for the Los Angeles County Economic Development Corp. "In Southern California, just about every industry has been adding jobs on a consistent basis."
The two exceptions have been in non-durable goods manufacturing, which includes apparel and textiles as well as finance and insurance. "People aren't refinancing as much, and consolidation is taking place in financial institutions," Kleinhenz said.
Otherwise, there have been strong gains in healthcare, leisure and hospitality as well as professional and business services and retail. "We are looking at an economy that has performed well during the first half of the year, but wage growth has been very slight," Kleinhenz noted.
That's because many of the new jobs are entry-level positions that pay minimum wage or are at the top of the wage spectrum. Fewer jobs pay in the middle. "We might see some improvement in that later on," Kleinhenz said.
California's unemployment rate is still higher than the national unemployment rate of 6.1 percent. But it has been coming down rapidly. In May, the state unemployment rate stood at 7.6 percent, seasonally adjusted, compared with 9 percent the previous year.
Los Angeles County's unemployment rate in May was a seasonally adjusted 8.2 percent compared with 10 percent last year.
The state should see total employment growth of 2.4 percent in 2015 and 2.1 percent in 2016.
Home front
Housing prices are making a slow comeback but still are not near their 2007 peak. From the beginning of 2013 to the beginning of 2014, Los Angeles home prices were risen 18 percent. San Francisco's home prices were up 22.2 percent while in San Diego they inched up 19.4 percent.
While values are up, home sale numbers are lackluster. In a recent UCLA Anderson Forecast, senior UCLA economist Jerry Nickelsburg noted that home sales have been soft because banks have fewer foreclosed properties to sell. Still, home sales should return to normal levels as more people get back to the workforce or form new households, boosting new home construction and more inventory.
More homes sales translates into robust retail sales as new property owners snatch up new furniture, accessories and notions to fill their new abodes.
But retailers have been worried about challenging sales in clothing. For the first five months of this year, clothing and accessories stores saw sales inch up only 1.3 percent over last year to $95 billion, according to the U.S. Census. But department stores were struggling. From January to May, their sales, which did not include leased department, dipped 3.2 percent to $62.2 billion.
Clothing manufacturers have had to work harder to keep profits up. Levi Strauss & Co. recently reported its net revenue during the second quarter of this year was down 2 percent to $1.08 billion. Most of that came from a 3 percent slip in sales in the Americas.
"While we are encouraged by business improvements in Europe and Asia, ongoing traffic declined and an increasingly promotional environment continue to pressure our Americas regions," said Chip Bergh, Levi's president and chief executive, in a statement following the earnings report. "We will continue to focus on what's within our control—from cost structure to conversion in our stores to engaging consumers with great product and innovation—in order to drive long-term profitable growth."
Gap Inc., one of the largest specialty retailers in the United States, was also seeing soft sales. For its first quarter, ending May 3, its revenues were up only 1 percent to $3.77 billion. But its net income tumbled 21 percent to $260 million. The San Francisco–based company's first-quarter same-store sales dipped 1 percent compared with a 2 percent increase for the first quarter of 2013.
Of its three stores, only Old Navy's comparable-store sales were in positive territory, edging up 1 percent. The Gap stores saw a 5 percent decline in same-store sales during the first quarter while the Banana Republic chain of stores had a 1 percent decrease in same-store sales.